Planning on taking your better half on a vacation in Crete? Well, many tourists arrive in Heraklion and then move on to the other parts of the island without allowing much time, if any, to see the sites. Heraklion is the island's capital and chief port, full of wonderful and scenic attractions that are a site for lovers. If you are planning to do something out of the ordinary in your romantic getaway, then you cannot miss what Heraklion has to offer. From breathtaking waterfront area with seaside restaurants, several important museums, to lovely squares where you can easily spend an afternoon in a street-side café, take a look at our top picks of romantic getaway in Heraklion that you would surely not like to miss.
Old Town
Stroll at a lovely seaside town with your lover, hand in hand in Heraklion. While here, you can visit the 16th-century Venetian Fort of Koules and also witness fishing boats lining the shore. Stop by the Venetian Arsenals, easily recognizable by the stone facade and huge archways to capture some wonderful pictures as well videos. This is the place where venetians repair their ship. You can reach this place by simply hiring a rental car. It will only add more convenience and comfort to your romantic getaway.
Heraklion Archaeological Museum
If you or your partner has interest in knowing the history of the place and more, then you must surely visit the Heraklion Archaeological Museum which houses 3,500-year-old frescoes from Knossos, including Prince of the Lilies and Bull-Leaping. You will also witness the Snake Goddess, a glazed ceramic figurine of a lady holding two snakes, dated 1600 BC, and the Phaistos Disk, a clay disc bearing a curious spiral of symbols is much older than 100 BC. It is a principle tourist attraction that will only make you fall deeper in love with this scenic city of Crete.
Ammoudara Beach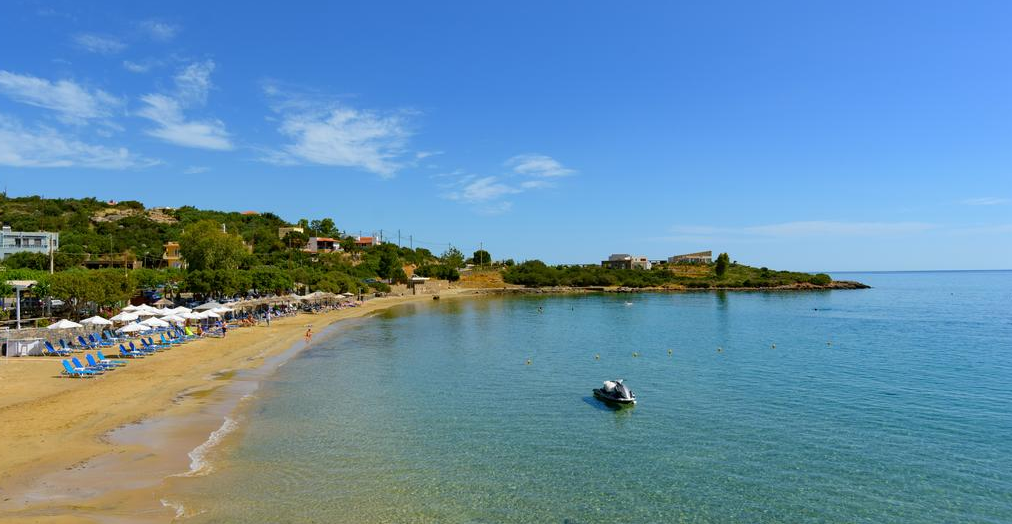 Rev up your rental car engine as your next destination, which is Ammoudara Beach awaits your arrival. Only five minutes drive from downtown Heraklion, the beach is all about golden sand, clean and clear water backed by tavernas. Take a dip in the cool water and feel at peace. Sun bath to give yourself a glorious tan shade that you can flaunt when you get back from the vacation. It is also perfect for a stroll and clicking pictures. If water sports interest you, don't forget to go for kiteboarding, as it is quite popular here.
Lyrarakis Winery
Wish to enjoy nature, breathtaking beauty and some quality wine? Then make you next stop at Lyrarakis Winery, which is a family estate producing high quality wines since 1966 with a strong focus on rare local varieties. The idyllic setting of the vineyards and the Lassithi mountains offer you the opportunity to enjoy nature alongside discovering local varieties of wines distinguished by the uniqueness of their origin and heritage. Pictures and memories made here will surely stay with you for a long time and will make you ache to come back to this wonderful city.