Crete is a great and super fun holiday destination all round the year. The perfect sunny weather and raw beauty attracts tourists from around the globe. It is also a place that is celebrated for its food and drink. To enjoy the destination to its fullest, it makes complete sense to hire a car rental. When you will have a vehicle to drive around, you are at the liberty to explore some amazing gems and feel like a localite. However, there are two exciting places in Crete that are a must visit and those are Samaria and Aradaina.
The most famous gorge in Europe is the Samaria gorge and Aradaina is the deepest one. The latter is not only ideal for sightseeing or hiking but also popularly used for bunjee jumping as well. Samaria gorge, on the other hand, is admired for hiking. So, if you are planning to travel to these beautiful gorges and make most of it in Crete, you will need a ride to take you to these destinations. Local transport or tourist buses will take you to these gorges but if you wish to explore the area on your own, then the best option is to rent a car.
Exploring Samaria gorge with MYTHOS car rentals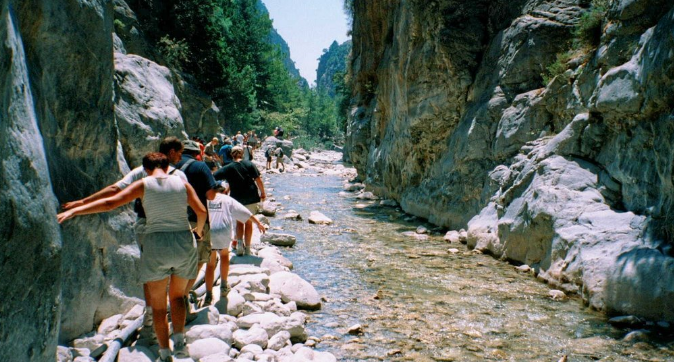 Tucked amidst the 2,000-plus meter White Mountains of West Crete the river gorge of Samaria runs 18 KM in length. It is one of the mightiest and most dramatic in the continent. The gorge has a startling height of 1,230 meters, decent walking around 5-6 hours. However, caution is a must. Here, while hiking you will be surrounded by abundant natural beauty. Cypress, pine, maple and oak trees, peonies, sage, chamomile and wild herbs are a common sight. Cretan wild goats can also be admired here. Lucky hikers even catch a glimpse of some of the rarest birds on the planet.
40km away from Chania Town, you can pick the car of your choice from MYTHOS car rentals and drive to Omalos and park there. From there you will walk all the way down to Agia Roumeli and then a ferry to Sougia. Take a cab to come back to your car.
Travelling to Aradaina gorge with MYTHOS car rentals
As mentioned earlier, Aradaina is one of the longest and most fascinating gorges in the country. It is located in the prefecture of Chania, in the Sfakia region. This gorge starts from the peak Thodoris in the southern slopes of the White Mountains. However, if you are looking for easiest way then go through the homonymous village. There are steep cliffs and scenic views of the Libyan Sea that you can enjoy. The hike can take 2-3 hours but it will be totally worth it. There are certain passages that are quite tricky and the trekking can get difficult.
You can cross the gorge from either from its lower entrance that is Marmara beach, or from above at Aradaina village. To make things more comfortable, drive to Chora Sfakion and park your car there. From there you can take a taxi or walk down to Marmara beach and pick up a boat or water taxi to come back to Chora Sfakion to pick your car.