Considered as one of the largest Greek islands and fifth largest islands in the entire Mediterranean, Crete Island situated in Greece, is surrounded by 1000 kilometers of coastline, stunning beaches and huge mountains. Thanks to its major attractions, Crete Island has become one of the most visited and popular tourist destinations, amongst the travel lovers all over the world. Crete Island has each and every thing which caters to the varied tastes and likes of the tourists. Right from mountains, beaches, archeological sites, harbors, monasteries and fortresses, Crete Island is a traveler's paradise. The leisurely pace of life in Crete Island only adds to the beauty and charm of this tourist destination.
The following article will highlight on some of the major tourist attractions in Crete Island and reasons as to why this destination has become one of the most sought after. Most people visit Crete Island for its vibrant nightlife, cultural attractions and museums. Most of the island's agricultural activities take place in the mountainous interiors of North Coast of Crete Island, thanks to the soil fertility. There are good roads and highways connecting the North Coast to the South Coast. The drive through the vast and high mountains makes for a memorable and eye pleasing experience.
For the water lovers, there are numerous beaches in Crete Island, which offer water sports and other adventure activities. While, some of the beaches of Crete Island are pebbles, there are others, offering soft sand and crystal clear and turquoise colored water. Balos, Elafonissi, Preveli and Matala, are some of the beaches most frequented by tourists visiting Crete Island. Elafonissi beach is known for its pink and white colored sand.
Knossos
Knossos, known as the most important archeological site of Crete Island, is the first maritime power in the Mediterranean. The palace of Knossos was the official residence of King Minos after whom the Minoans are named. The palace, which is a monumental residential complex, houses a vast courtyard for staging "Bull Leaping" activity. Knossos is said to have been abandoned around 145o BC either due to invasion or volcanic explosion, with the reasons remaining a mystery.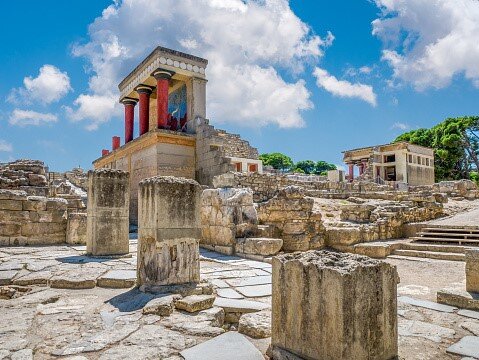 Chania
Chania, capital of Crete Island until 1971, is a main town situated in Western part of Crete Island. Chania is best explored on foot, allowing the tourists to enjoy the scenic beauty of snow-capped White Mountains and Aegean Sea. The Municipal Market in Chania, which was built in 1911, is known for its fresh seasonal produce, honey and Cretan cheese. One can explore Chania on foot, a walk which can take up to four to six hours, depending on your fitness levels. However, one can opt for one-way hike, while taking a ferry or a bus ride during their return journey.
Heraklion
Heraklion, the present capital of Crete Island, is a visitors' delight, offering pleasant surprises, especially for the first timers. Heraklion has pedestrian streets with shops and restaurants lined up on both the sides. One can linger for hours over a cup of coffee in any outdoor café while enjoying the cool shade of huge trees.
Any trip to Crete Island is considered as incomplete sans visiting the 17th century Preveli Monastery. Overlooking the scenic Libyan Sea, Preveli Monastery boasts of a small air-conditioned museum having a vast collection of religious artifacts, apart from terraces and courtyards.